Exhibition "The Myth of documenta" in China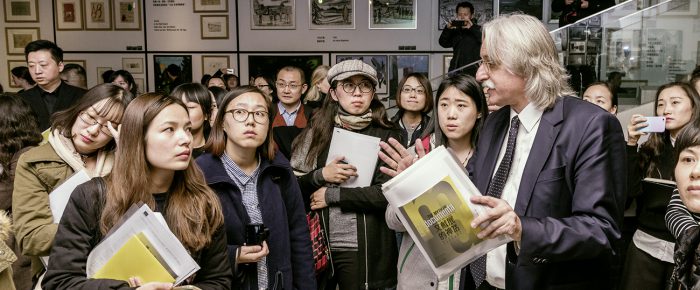 Opening of the first large museum exhbition on the history of documenta in the CAFA Art Museum in Beijing
For the first time in China the exhbition "The Myth of documenta – Arnold Bode and his Heirs", specifically conceived for the Chinese public, presented the history of the documenta. Drawing on vast material mainly from the documenta Archive, the main developmental stages of the exhbition known all over the world were described on 1.500 sqm. The exhibition was realized in a cooperation between the CAFA Art Museum and the Institute for Arts and Media Management (IKM) of the  Freie Universität (FU) Berlin under the patronage of the German Foreign Secretary.
More than 600 exhibition objects (photos, films, newspapers, art works, installations, montages) exemplify the different curatorial concepts from Arnold Bode to Carolyn Christov-Bakargiev. Through the four main chapters "Reconstruction", "Transformation", "Anything Goes", "Global Discourse", the more than 60 years long success story becomes a spatial experience, reaching from the founding myth to its artistic conflicts, ruptures and transformations. In a prologue the inventor of the documenta, Arnold Bode, receives a specific appraisal, a documenta-lab addresses for the first time the innovation in arts education realized in the Kassel-based global exhibition of contemporary art.
The exhibition shown in Beijing from March 1 to 31, 2017, and in the New Gallery of Art in Shanghai from April 28 to June 18, 2017, is a result of a cooperation agreement between the documenta gGmbH and the Central Academy of Fine Arts (CAFA), which also projects a documenta Research Center and a Chinese documenta-Website.